Your short term rental website
Launch a professional vacation rentals website and receive direct bookings with no sales channels commission.
Your branding & colors
Your domain name
SEO-optimised templates
Robust booking engine
Multi-language, multi-currency
Booking calendars and listings synced with Your.Rentals app
PCI Compliant, high-speed, SSL encrypted
Do you want to get more direct bookings?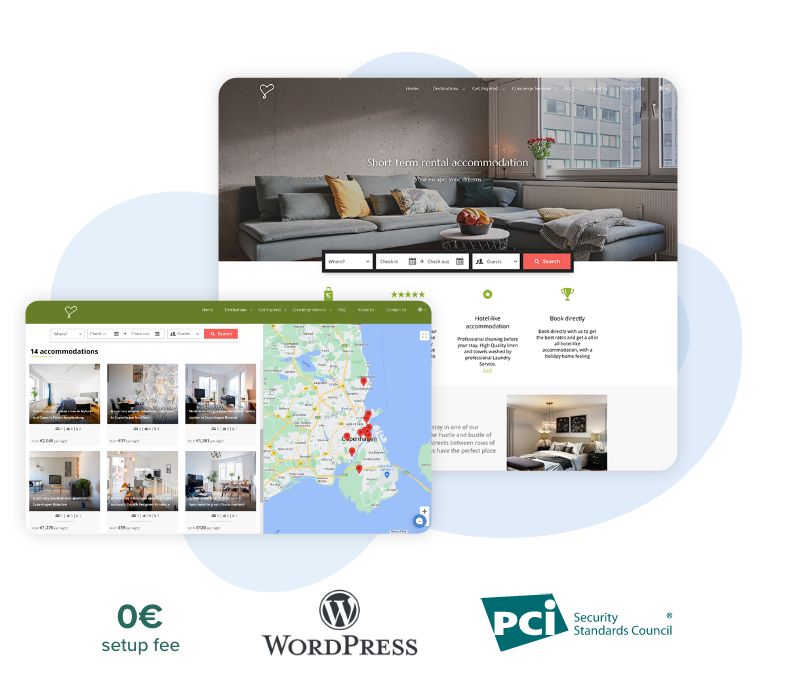 Vacation rental site templates
Every site feature that a host needs
Site-wide listings search and a booking widget.

Wordpress themes with photo galleries, amenities, and more.

Sync website listings info and bookings with channels.

Mobile-friendly design.

SEO rich-text markup, multi-language, multi-currency support.

Secure guest payments & payout through bank transfer or PayPal
At Your.Rentals, until the reservation, their customer support assists us. I really have this impression of having someone in Your.Rentals.
Sybille Cabalé, owner and property manager
I would recommend Your.rentals because it is intuitive, simple, easy to use and very profitable.
Alessandro Rossi, co-Founder
Steps to building Your.Rentals website
Book a demo with Your.Rentals and make sure our approach works for you.
Sign up
with Your.Rentals and build your listings. It's free. You only pay when you receive a booking.
Submit your technical requirements for the website, including domain, basic texts, etc.
Our team builds up the site for you free of charge. You approve it is correct.
Your approved vacation rentals website is ready to receive direct bookings!
Website setup
Includes linking to your domain, home page content, basic SEO and category pages.
Hosting (excl. VAT)
Hosting subscription starts after your website is published. Billed monthly.
Service fee*
Pay per booking. No subscription fee. No fixed costs.
Book a Demo and learn how to grow direct bookings
Will my listings, calendars and prices be updated on my own website when I change them in my Your.Rentals account?
Yes! Our goal is to save you time and money in maintaining your website. Whenever you make changes to your listing availability, prices or info, your website will be automatically updated. And when you receive bookings via OTA channels your calendars will be automatically blocked on your website.
Can guests book and pay online?
Yes! Your website is fully integrated with Your.Rentals, allowing guests to book and pay online using our Direct booking feature. We take care of the payments, merchant fees, notifications to the guest and support for payments and refunds. All of this is included in a 5% fee we charge for Direct bookings.
Will I receive support for my website?
Yes! Our highly rated support team is ready to help you with your website via live chat, phone and email.
Do I need a Your.Rentals account to get a website?
Yes. Our websites product is designed to look beautiful, convert visitors to bookings and save you time and money maintaining your website. When you build listings in Your.Rentals, they appear automatically on your website, and all content, rates and calendars are synchronised to your website.
How do I pay for the website?
The website set up is free. We charge 20 euros per month for the hosting. The amount is automatically deducted from your credit/debit card once your website is live.